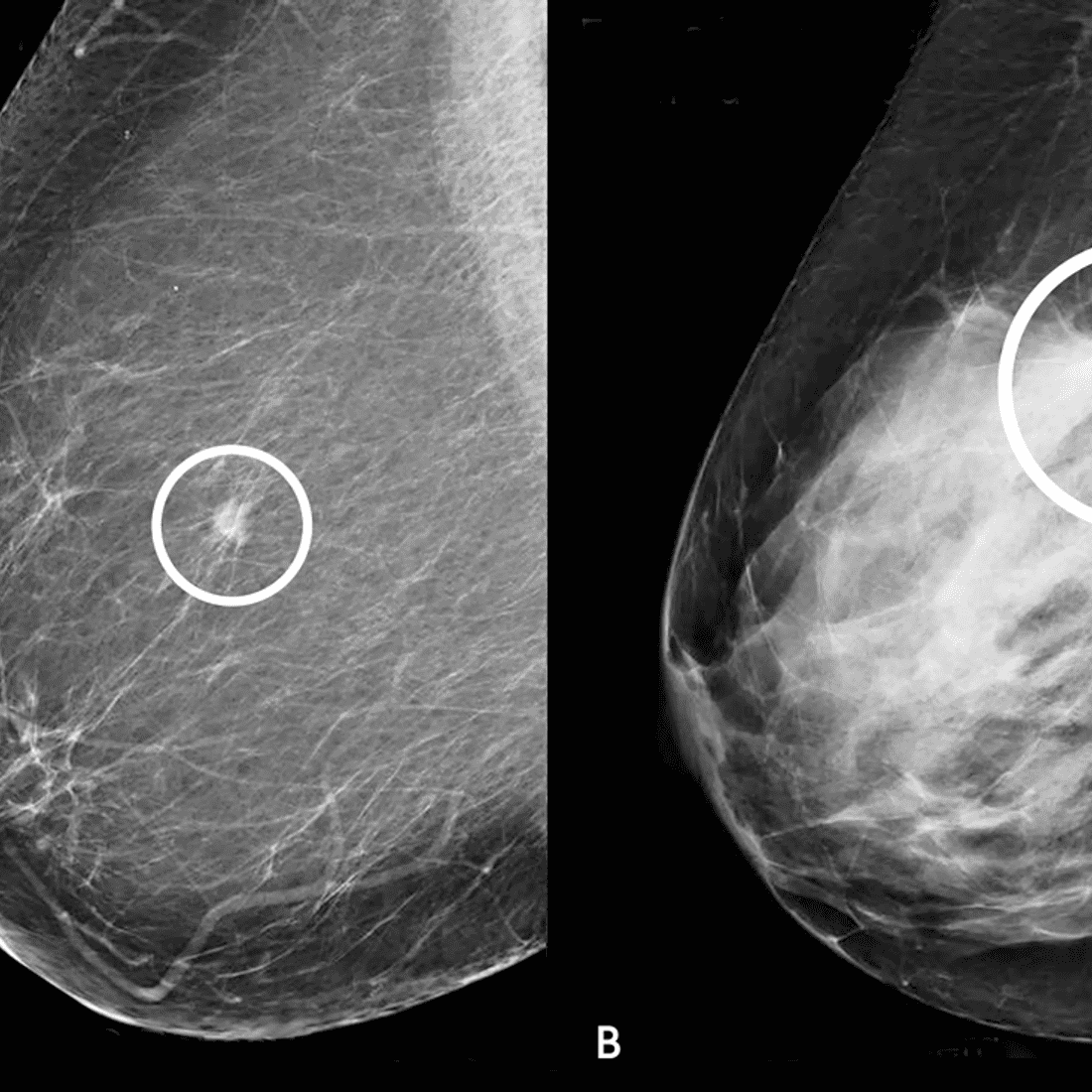 Nearly half of all women are marginalised by breast cancer detection
Posted on: 2 May 2023
Figure 1 Mammography scan images. Left: A tumor in fatty tissue is easy to identify, and, Right: A tumor in fibroglandular tissue is difficult to identify (1)
Breast cancer is the main cause of cancer-related deaths in women. In 2020 alone, there were 2.26 million breast cancer cases and 685,000 deaths attributed to breast cancer (2). Despite this, women who are diagnosed with stage 1 breast cancer almost always survive (3) shows that breast cancer deaths can be reduced through early breast detection. Early breast cancer detection relies on the 'golden standard' diagnostic tools: mammography, ultrasound, and MRI. However, these tools do not accommodate all patients equally. Certain groups of women are marginalized because they are disadvantaged by the tools available.
For example, nearly half of women aged forty and older have breasts that have a high amount of fibroglandular tissue (4). Unfortunately, mammography is not good at distinguishing cancer in fibroglandular tissue (4,5). Having dense breasts is a risk factor for breast cancer (1). Black women and younger women under forty years old are both groups of women who are more likely to have this breast type, leaving them more at risk of having undetected breast cancer (6,7). Another disadvantage of current clinical tools is their expense and inaccessibility. In low- and middle-income countries, resources for breast cancer detection are limited or non-existent, subjecting women in these settings to less-than-optimal care (8). Finally, tools such as mammography and MRI can be invasive, uncomfortable, or toxic, worsening patient experience (9,10).
The Z-scanner device presents novel technology capable of circumventing the marginalization of these sub-groups of women. Zedsen is creating a portable, non-invasive technology that can easily capture changes in breast tissue regardless of tissue type. Zedsen's mission is to empower women to take their health into their own hands by enabling easy access to safe and accurate breast cancer screening to all women. The Z-scanner was developed with inclusivity and accessibility in mind. As such, the Z-scanner is inexpensive, occupies minimal space in the clinic, requires minimal training from clinicians for use, and takes only five minutes to scan a patient. Z-scanner technology is non-invasive, meaning it will not be uncomfortable or harmful for patients, and will be capable of accommodating all breast sizes and shapes.
1. breastcancer.org. Dense Breasts.
2. Wilkinson L, Gathani T. Understanding breast cancer as a global health concern. Br J Radiol [Internet]. 2022 Feb 2 [cited 2022 Sep 20];95(1130). Available from: /pmc/articles/PMC8822551/
3. Survival for breast cancer | Breast Cancer | Cancer Research UK [Internet]. [cited 2022 Nov 8]. Available from: https://www.cancerresearchuk.o...
4. Dense Breasts: Answers to Commonly Asked Questions - NCI [Internet]. [cited 2022 Nov 18]. Available from: https://www.cancer.gov/types/b...
5. What Does It Mean to Have Dense Breasts? | CDC [Internet]. [cited 2022 Nov 18]. Available from: https://www.cdc.gov/cancer/bre...
6. Rochman S. Study Finds Black Women Have Denser Breast Tissue Than White Women. JNCI: Journal of the National Cancer Institute [Internet]. 2015 Oct 1 [cited 2022 Nov 9];107(10):6–7. Available from: https://academic.oup.com/jnci/...
7. Salem DS, Kamal RM, Mansour SM, Salah LA, Wessam R. Breast imaging in the young: the role of magnetic resonance imaging in breast cancer screening, diagnosis and follow-up. J Thorac Dis [Internet]. 2013 [cited 2022 Nov 9];5(Suppl 1):S9. Available from: /pmc/articles/PMC3695543/
8. Sarvazyan A, Egorov V, Son JS, Kaufman CS. Cost-Effective Screening for Breast Cancer Worldwide: Current State and Future Directions. Breast Cancer (Auckl) [Internet]. 2008 Jan [cited 2022 Nov 18];1:91. Available from: /pmc/articles/PMC2613364/
9. What happens at your breast screening appointment - NHS [Internet]. [cited 2022 Nov 18]. Available from: https://www.nhs.uk/conditions/...
10. Rogosnitzky M, Branch S. Gadolinium-based contrast agent toxicity: a review of known and proposed mechanisms. Biometals [Internet]. 2016 Jun 1 [cited 2022 Nov 18];29(3):365. Available from: /pmc/articles/PMC4879157/
Bedford House

21a John Street

London

WC1N 2BF